Description

Our Simple Soothing Facial Toner infused with potent ingredients like Pro-Vitamin B5, Chamomile, Witch Hazel and Allantoin, provides a smooth, matte finish, purifies and tones in one step. Use this toner to remove any residual traces of make-up and impurities, which can clog the pores and cause acne or pimples and help keep skin toned and refreshed.
Features
Removes make-up, dirt and impurities
Helps soothing and purifying
Rid of excess sebum and oil
Tightens skin temporarily
Super refreshing and cleanse skin
Restores skin's pH balance
Keep moisture and reduce shine
Contain with Pro-Vitamin B5, Chamomile, Witch Hazel and Allantoin
Don't irritate or over-dry the skin
Simple Soothing Facial Toner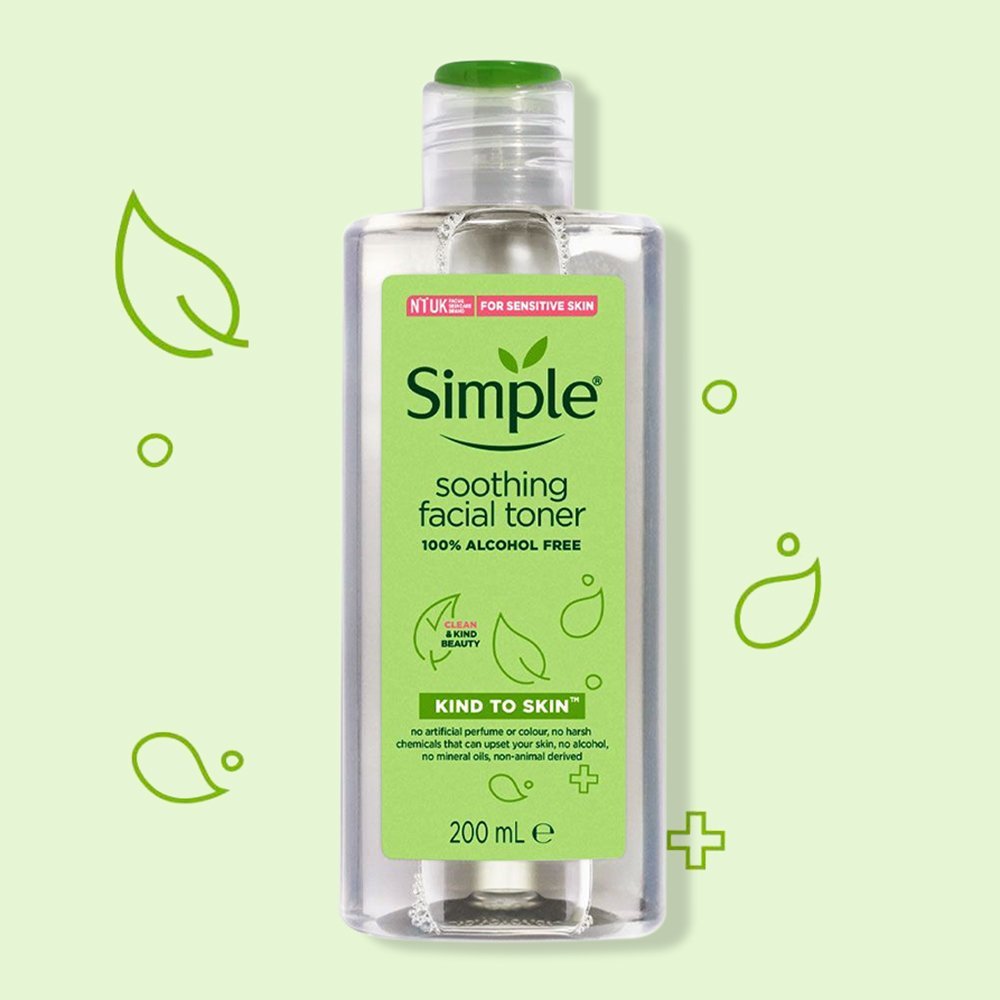 The Soothing Facial Toner is a great way to finish any cleansing routine, not just if you're experiencing breakouts or blemishes. Our Simple Soothing Toner helps purify, refresh and prep the skin, helps to remove makeup and grime so your pores feel clean. This Soothing Toner narrows pore size and provides soothing effect on the skin. This is a beauty product that cleanses the skin, helping to temporarily minimize the appearance of pores, create a smoother looking appearance and removes dirt from the skin pores.
Face toner is also helpful to clean dirt, oils and impurities more efficiently than cleanser alone and leave skin better protected against environmental stressors and provide your skin flawless and retains freshness. The Toner is enriched with Pro-Vitamin B5, Chamomile, Witch Hazel and Allantoin, to help for treating acne because of its anti-inflammatory and antimicrobial properties. The powerful combination of the active Witch Hazel and Allantoin ingredients makes this product especially to calm redness, swelling, and inflammation. It may even help to prevent and reduce acne scars.
It has antiseptic properties that gives a prominent skin tightening and pore-minimizing effect, whilst also soothing and cleansing the skin. Our Soothing Facial Toner is perfect even for sensitive skin, containing no artificial perfumes or colors and no harsh chemicals that can upset your skin.
How To Use
Step – 1
Start by washing your face using a cleanser and warm water and pat your face dry. Gently massage your skin to remove makeup, impurities and dirt.
Step – 2
Take a small amount of the toner onto a cotton pad. Use your cotton pad to gently wipe the product all over your face.
Step – 3: Wash
Wait for 1/2 minutes for the toner to dry. Once the toner sinks in, you can apply other products. You can use this toner twice in a day.