Description

This hydrating daily sheet mask with fragrant moisture squeezed from Roses calms the skin, soothing irritation and minimizing redness. A thicker, gel-like texture that contains rose extracts help slough away dead cell debris to keep your skin clean and leaves skin looking smooth and radiant. This sheet masks help in controlling oil secretion, minimize pores, removes dirt, make healthy and luminous by providing vitality to stressed-out skin. It also reduces wrinkles and work to remove impurities from pores including dirt that causes blackheads.
Features
Helps to reduce inflammation, redness and remove impurities
Skin looks soft, smooth, radiant and healthy
Makes skin hydrate and soothes the skin
Minimize pore sizes and treats infections
Prevent signs of ageing and fine lines
Suitable for all skin types
Innisfree My Real Squeeze Rose Sheet Mask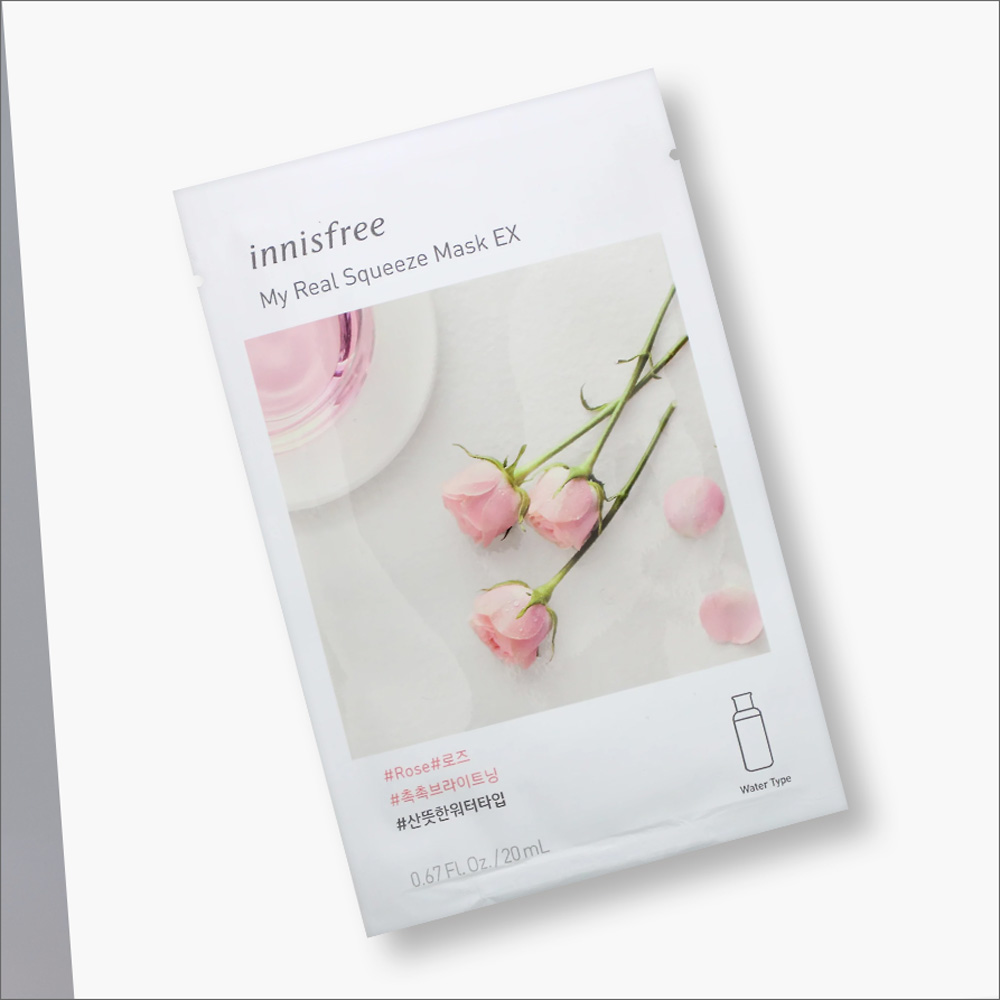 As rose extracts contains antioxidants and moisturizing properties, it is extremely effective on fighting free radicals and reduce skin's redness, swollen spots, itchiness with its healing ingredients. Rose extracts help to get rid of dull, rough skin and promotes the healing of skin lesions like burns or acne, stimulating a healthy, radiant complexion. Suitable for All skin types should use it, but it is especially beneficial for dull, irritated skin.
Thanks to innisfree's sincere dedication, rose extracts provides the skin with a nourishing and moisturizing effect. It also helps to shrink large pores and brightens up your complexion. Rose extracts is an anti-inflammatory treatment relieves and softens the skin.
This hydrating sheet mask is designed to help detoxify and relax skin. This mask has ability to lock in moisture and prevent the serum from evaporating. Natural skin lightening properties that can help even out skin discoloration and reduce wrinkles and fine lines.
How To Use
Step – 1: Cleanse
First cleanse the skin properly and pat your skin dry.
Step-2: Mask Setting
Gently unfold the mask and carefully place it over cleansed skin. Smooth out and press into contours. Leave it for 20-25 minutes and relax.
Step-3: Remove
After 20-25 minutes gently remove the masks by carefully peeling them away from the edges. Rub in excess serum.
Cautions
For external use only. Avoid using around the eye area. Do not apply on a scar or any area of skin irritation, such as dermatitis and eczema. If the following symptoms appear after using the product, stop using it. If the symptoms worsen, consult a dermatologist. Red blotches, swellings, itchiness or irritation while using the product. If the above symptoms appear when the skin is exposed to direct sunlight after using the product. Cautions about handling and storing the product Keep the product closed after using it.
Keep the product out of the reach of children/babies. If they swallow it, consult a doctor.
Avoid extremely high and low temperatures and direct sunlight. Immediately use it after opening. Not to be dried and do not use twice.